We woke up early and had breakfast. Rieko had cooked up some veggies I had never seen before and we ate bread with jam I had brought over together with some unfiltered wild honer still full of dead baby bees.
The sun was already scorching when we set out for Bhakunde and crossed the rope bridge over the river flowing deep below Baglung. Rieko had arranged a homestay at a Magar farmhouse with a friend of hers and we were setting out on foot to walk the roughly 1000 altitude meters up to the village through terraces of rice and stretches of jungle.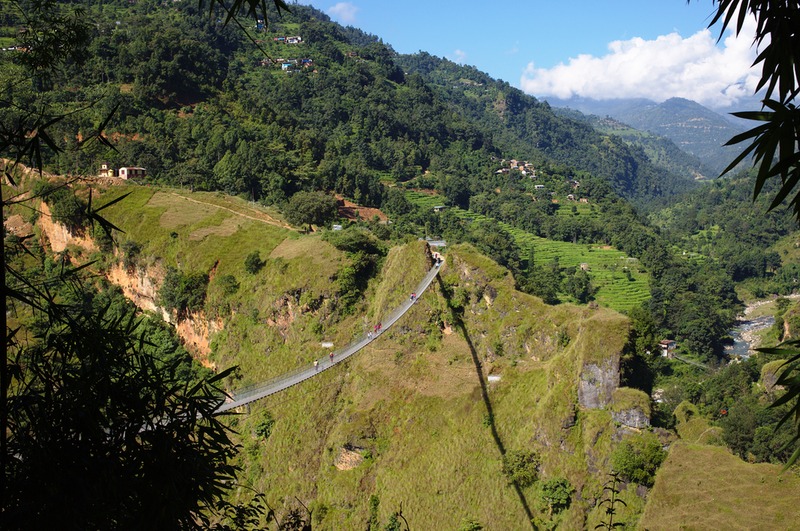 When we arrived two girls looked curiously at us from a safe distance as we sat down to take off our shoes. Chicken were running around the small courtyard and three goat kids appeared after a while to take a look at the newcomers. The girls soon picked them up and handed us one each. It was all very adorable. Soon after we met the mother and (at least as far as I could tell) head of the household. We were served tea and it didn't take long for Rieko and her to be jabbering about in Nepali while I made faces at the two girls.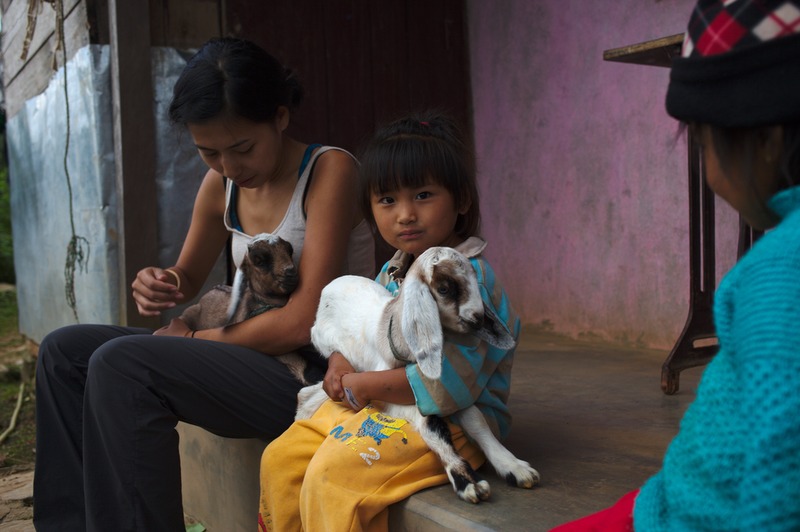 It didn't take long before I gave up on guessing the topic of the conversation going on between our host and Rieko and I set off to take a closer look at a viewtower I could see on a hill next to the village some 30 minutes walk away. Clouds were coming in fast and I could see the rain in neighboring valleys coming slowly closer as I went up the slippery path through a patch of jungle in my sandals. Nearing the hill I could see the tower itself when the clouds weren't coming up up the hillside. The tower was half-finished with plastic sheets flapping idly in the wind looking rather omnious in the passing mist. The place felt like an excellent setting for a horror movie. Clearing a bit of spider web in the entrance I went in and nervously scaled the shabby looking staircase to take a peek out a the clouds that by now had almost entirely engulfed the hill.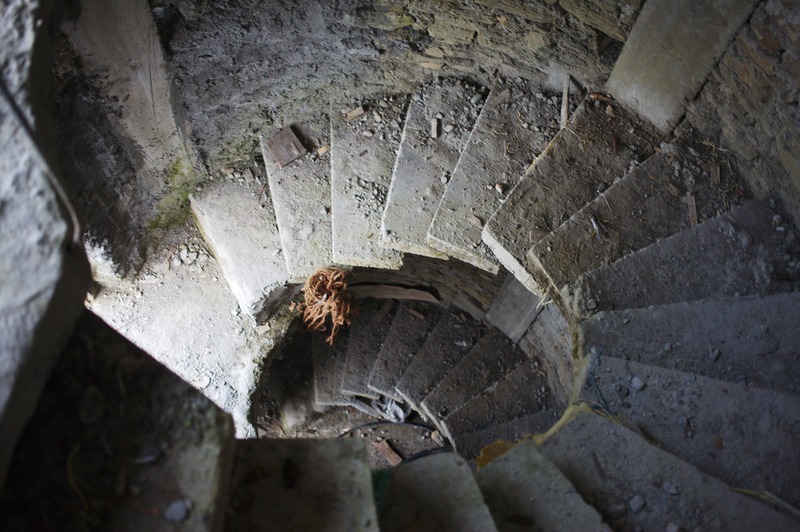 I got lost on my way back. Twice. It was rather embarrasing because I had been bragging earlier about my ability to find my way to Rieko. When I finally found my way back in the dusk I found Rieko sitting in the kitchen talking to our host who was manning the open fireplace and cutting vegetables. The kitchen was small, smokey and dark, but for a lamp in the back wall and the light from the fire. Our host was sitting on a flat stool next to the fire with all the shelves of a dried foods, grains and spices within reach. She could tell we were hungry and quickly fried up a few veggies with curcuma as a starter. She then proceeded with the greens which were fried and salted. After we had had a few bites she went on to prepare a sauce or paste for the mains made from hemp seeds together with chilli and tomatoes. She used a morter and pestel to grind the seeds in to an oily mass and then mixed in spices and tomato still using the pestel until she had a grey-brown oily paste. It was delicious. We combined every with some pieces of goat and a bit of rice and ate it as a simple but tasty thali.
We were served the local alcohol to drink. It was bitter and fairly strong and Rieko entertained with how she was once served this drink but with ghee and served how. Our hosts quickly complied but roasted rice in the ghee before serving everything together as a hot crunchy drink. Roasted rice were floating on top in a greasy layer of ghee which covered the hot alcohol. The texture was amazing but it took some effort to like the flavor.
A friend of Rieko's joined us. He spoke a little English but was very shy about it. Fortunately Rieko was good at occasionally translating the conversation. She told me that her friend had studied Japanese and wanted to get a visa to study in Japan. Many Nepali went to work in Japan while they were officially there to study, so his application has unexpectedly been rejected because his school had been blacklisted. To get a visa to Japan now he would have to pay an agency $16.000. Working in Japan is one way to earn money for young Nepali. Another is to go to Qatar and endure the heat while working in construction. Rieko's friend was considering this.
As we sat talking and drinking we would occasionally be interrupted by periodic power cutys and we would sit in the light of the embers until somebody switched on a torch. It was a very pleasant evening and I told Rieko that it was her fault if my trip was all downhill from here.