Rieko had asked me to set an alarm for 5:00 in the morning. It rang and I looked out on the darkness and went to sleep again leaving the door open Rieko could judge for herself if she really wanted to get up while it was still dark. 15 minutes later she woke me up and asked me to look out. I drowsily wormed my way over still in my sleeping bag and looked out on the snowclad peaks of the Annapurna massive straight ahead. I was awed. The whole day yesterday it had been too cloudy to even catch a glimpse of the high peaks beyond the hills and it was first now I realised how close we were to the real mountains.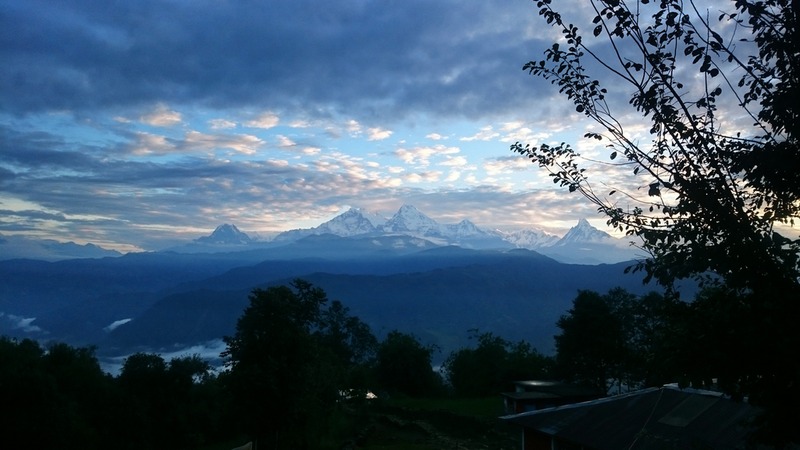 We had arranged to head up to the viewtower together with Rieko's friend and the nephew of our host (Syri, I think his name was). The view from the viewtower without clouds was gorgeous but we made it up there too late for the magical morning light to still be illuminating the landscape.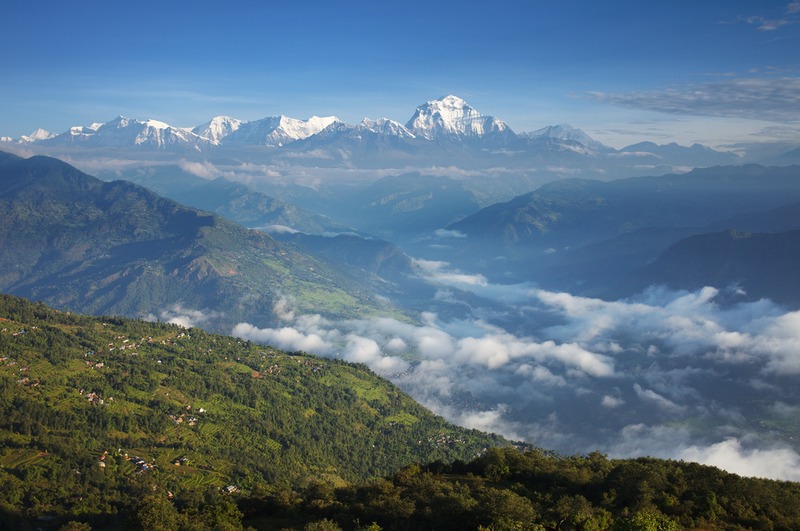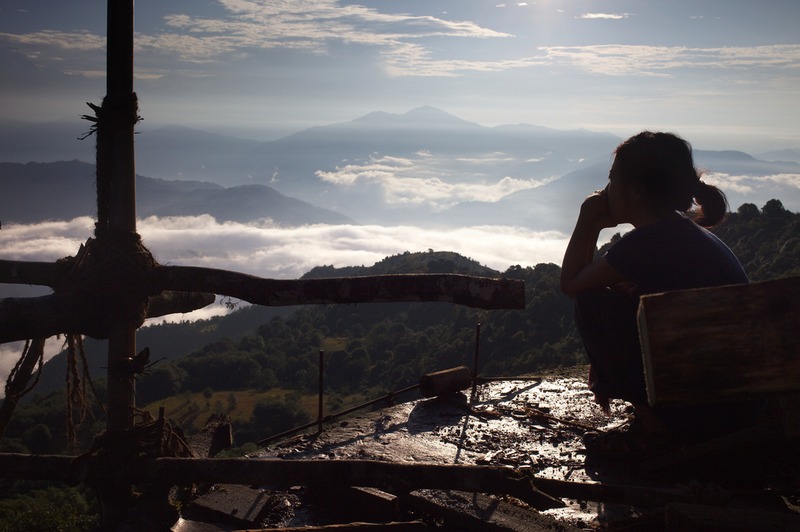 I'm pretty sure we got lost on the way down. We were heading for a template beyond the hill but ended up walking all the way aorund the hill on a big detour. That made me feel a little better about getting lost myself the day before. The template we visited was nicely situated on a ridge with a steep dropoff to both sides. We walked on an old path from Bhakunde along the ridge part of the way there and could enjoy the sight of clouds playing in the valley below us. Despite my best efforts I managed to make the cultural faux pas of walking counter-clockwise around the temple while I was taking pictures, making it pretty obvious that I was a newbie in Nepal.
On our way back we had tea and hard boiled eggs at a small tea shop sitting on the edge of the hill with a gorgous view of the mountains and the clouds blowing up over the the hill from the valley occasionally obscuring our view before finally covering the entire hillside. It was by far the most scenic hard boiled egg I have ever had.
We came back to Roti's served with some mushrooms we had found on the way together with leftovers from the night before. Like pizza the morning after this was an exsquisite meal. After eating and a nap we set down the hill to visit a Brahmin village where Rieko had a workshop. Her contact person wasn't there when we arrived. This was symptomatic for this village Rieko later explained. They hadn't taken well to her work and she didn't feel her efforts were appreciated and respected.
This was hard to tell from her workshop which was attended by 10 women from the village who all sat down to learn how to make a cleaning brushes out of recycled and shredded instant noodle packs. I later learned that uncooked instant noodles is a popular snack. They are surprisingly tasty.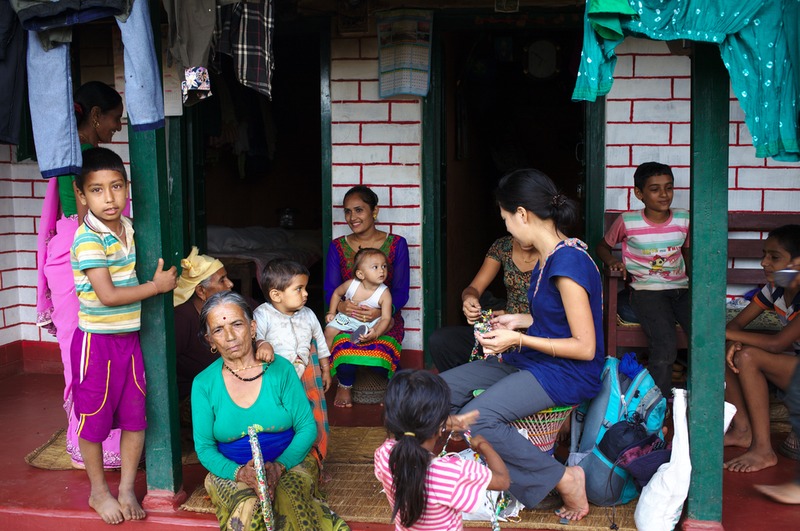 We talked about how women were treated on the way down to Baglung and Rieko told he she was shunned by some colleagues in her office because of her different views on sexuality. She also mentioned how an old woman at a meeting recounted that 30 years ago it was normal for a woman to clean her husband's toes and eat the dirt under the nails. I'm not sure I'm convinced this was ever the case but the views on menstruation sure seems a bit backwards judging from a western viewpoint. This is a subject that interests Rieko a lot and she is doing reserach on the subject for a thesis. She told me that many women don't know what causes their period and views it as dirty blood that is expelled from their body because women are inherently dirty. When a woman has her period she is not supposed to cook for others or visit other people.
By the time we came down to Baglung Rieko had started to feel queasy and she quickly felt worse developing a stomach-ache and nausia. I cooked up some spaghetti but she had to lie down and looked utterly miserable. She told me that she usually gets a fever when she comes home from the village.
Photos on ifany.org: