There was a transport strike going on so buses were not arriving to Baglung from Pokhara even if the local buses were still leaving. This meant that it was rather difficult to travel to Beni, this first destination on my way to Jomsom. Rieko's landlord's brother had kindly offered to help me out getting on the right means of transport going in the right direction. He suggested I take a jeep to Beni, but the Jeeps weren't leaving before they were full and whe we arrived the pay-money-shed had not yet opened and only one guy was patiently waiting for a jeep to Beni.
Disillusioned we went to check at the bus station. A bus was getting ready to leavbe but going in the wrong direction. Another bus was supposedly going to Beni at 8am but it was currently empty so that seemed improbable.
The landlord's brother suggested that I could take the full bus down to the highway and then change to a jeep or a bus passing by for Beni. On a second thought he decided this would be too uncertain though and recommended against it so we went back to see if there was any progress at the jeep station. At this point I started wondering if he wasn't supposed to be somewhere given that he was the principal of a local school but he didn't seem to be in a hurry so I appreciated his futile efforts. The jeep station was exactly as we had left it.
Beni's only 10km away so I suggested I just walk there in the hope that there might be some pictoresque path the likes I had just walked the day before. I couldn't quite communicate to him that I wasn't interested in walking along the dusty highway under the midday sun so in the end he gave me detailed instructions for how to walk to the highway. I thanked him, sent him off to his work and went to check the bus to Beni back at the bus station but it was still empty although the driver suggested that if I paid a thousand rupees (20 times the normal rate) he would gladly taxi me there in the bus.
I could easily have taken a taxi for the same price all along but I tend to think it's cheating and unsustainable to bend the world to your will just because you pay it. However I was out of options to go to Beni after 2 hours of walking back and forth between the Jeep stand and the bus station so I called Rieko to ask her advice. She suggested I follow the landlord's brother's original idea and jump on a bus down to the highway and find some other mean of transportation. So I got on a bus that was close to leaving and after waiting another 20 minutes to fill the last six seats I finally reached the highway and immidiately found a jeep to Beni. It was empty though and it took another half hour before we actually left and drove the 10km of bumpy road in 40 minutes time.
From Beni I was going to a place called Ghasa where I would change again for a bus to Jomsom. Maybe. After asking around for the bus to Ghasa it turned out that such a thing indeed existed but to my dismayal it was empty. In my frustration I asked at what time the bus would be leaving, even if I already knew the answer. The guy behind the counter shrugged his shoulders.
I was a tad bit frustrated at this point. I didn't want to miss the perhaps only bus to Ghasa that day, but I wasn't keen on spending time at the schorching hot bus station in the sun with nothing to do for a few hours. I finally informed them that I would be waiting for the bus' departure at a nearby restaurant. I wasn't entirely sure they had understood me, and even if this were the case I wasn't convinced they would actually care to come get me once the bus was due for departure. The guy at the bus stop gave me another shrug and I walked off to have a mango juice.
They did come fetch me, only it was an hour and a half before the bus would actually leave.
I managed to get a seat with some leg space but it was a the sunny side of the bus so I spent the wait tanning my left arm much more than my right as well as sweating a lot and getting nice and sticky. So did everybody else to be fair so it wasn't like they could call me out for smelling bad. The stench in the bus wasn't pleasant though.
The drive to Ghasa was slow because the road was bad. It took us more than four hours to drive roughly 30km. The going pace was essentially a slow jog and while I wouldn't have wanted to jog the distance, it felt a little absurd to sit in a vehicle that half the time was going slow enough that I could have overtaken it by walking.
To make up for the tedious speed the bus would leap from pothole to pothole. A couple across the isle from me found this particularly amusing when the guy at a particularly intense twist fell out of his chair and down in the isle. As for myself I was mostly concerned with making sure that a nail sticking out from the side panel by my legs wouldn't pierce my knee at some opportune moment.
When we finally made it to Ghasa it was about 5pm, roughly 11 hours since I originally had set out of the door that morning. In that timespan I managed to travel 40km yielding on average a speed a little slower than walking all the way here. Ghasa however was gorgeous and I decided to spend the night there. Not that there was any transport for Jomson at this hour anyway. The villge lies on a glacial plateaux above the river which carves a deep gorge beneath it. The houses in the village were all made of stone featuring the typical nepali style of opening one side of the building with wooden panels that are removed during the day to create a living room that is open towards the street.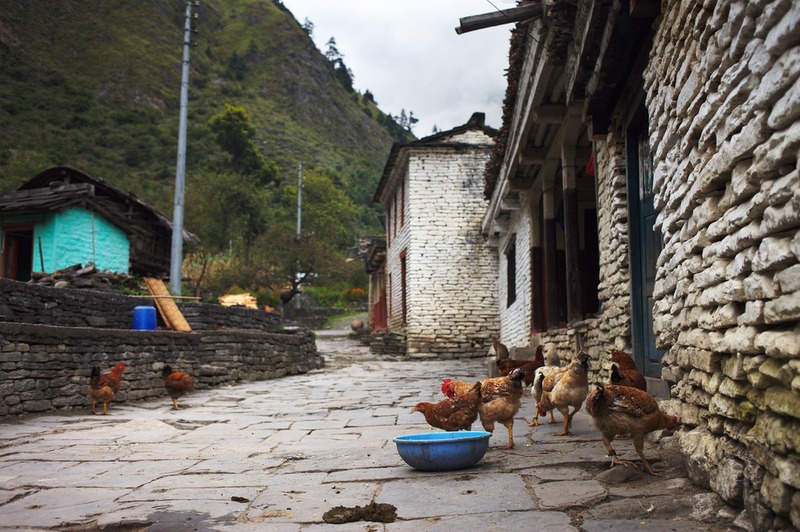 My room was 100 rupee. This seeemed crazy but since the food they served was pricey thay made the money back again I suppose. It was an older couple who ran the hotel and when the power was on the husband would watch TV while his wife cooked for me in kitchen. I had apricot brandy for desert. It was tasty.