According to an old man the bus would leave for Jomsom at 8am the next day. Maybe. I figured this would give me a two hour headstart if I set out walking so I had set my alarm to 5am and walked out in the dark predawn after packing my bag in the very early morning. It was frisky at this altitude (around 2000m) but not too cold for shorts and I was soon walking and being pleased with myself for getting up early.
My efforts were soon and unexpectedly rewarded. I turned a corner and suddenly Dhaulagiri was standing right in front of me, visible in the soft dawn light before the sunrays would hit the peak. To add to my excessive luck a jeep passed shortly after and offered a ride up to Neti about 4km away. He asked what I would pay and I tried to low-ball saying 100 rupees but he accepted right away so I must not have tried hard enough.
My original plan was to follow the main road which was probably the shortest path to Jomsom and also more importantly my only chance at catching the bus. However with the first 5km down and only around 30 left to walk I felt less worried about missing the bus and decided to follow the Annapurna trail whenever it didn't seem like I would be taking a huge detour.
The main road and the walking trail followed the Gandaki river on opposing sides most of the time. In Neti where I started, the vegetation was lush and green, but the landscape gradually dried out as the river bent behind the Annapurna range which served as a rainshield for anything lying north west and in the shade of the moonsoon rains coming from the south.
I passed several small villages along the way, many of which had guesthouses set up for hikers on the Annapurna trail. There isn't much business after the road to Jomsom was constructed. I met only 5 other hikers the entire day, and I was even walking in the opposite direction of the common hiking direction. Not good for business but I was content to have the path to myself.
I stopped at a small tea shop to have a drink in the early morning. The proprietor wanted me to take a photo of his son and send it to him. I told him that I would maybe do it. His son posed making the victory sign. He must have been about four. The proprietor didn't ask for a photo of his daughter.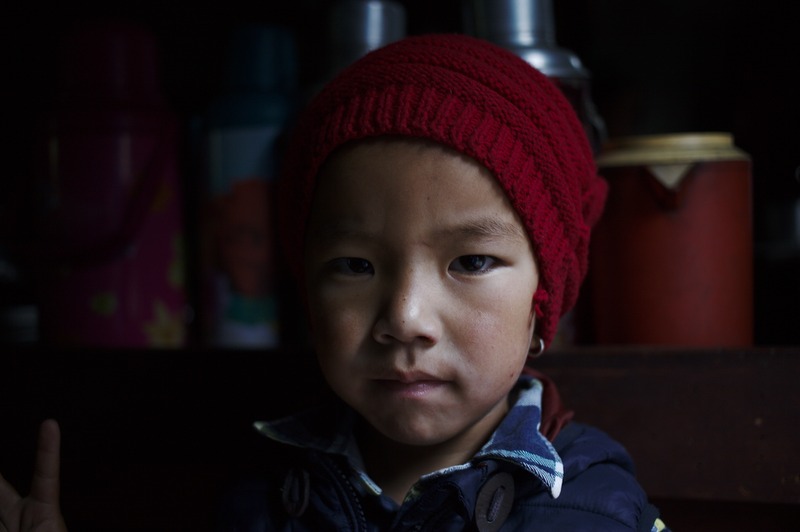 My next stop was at a touristy guesthouse in Tukuche where they served apple pie. The Annapurna trail carries the nickname 'The apple pie trail' so it seemed like this was something I should try. The pie was mediocre and I have a feeling I could make a fortune as an apple pie consultant, but on a wall I spotted a hiking map indicating a trekking route over to a lake called "Tilicho Lake" next to the peak with the same name. The thought of going somewhere with a little less tourism intruiged me but the hotel keeper said I would need to hire a guide to get there.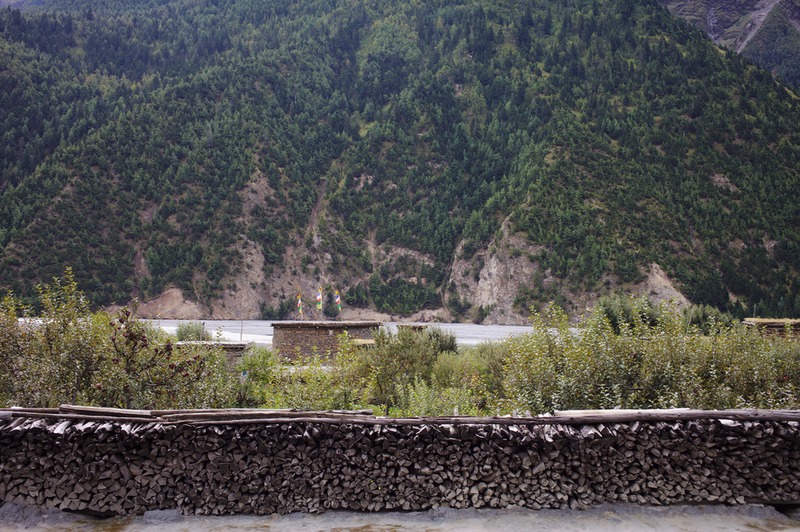 After the pie I went on walking up until I came to a village named "Marpha" where two israely hikers going the other direction adviced me to take a Jeep to Jomsom rather than walking on the dusty and windy main road. As I walked along the main (and only) street wondering how I might organise a ride, a Jeep passes me and I flag him down. He wants 1000 rupees but after arguing that he seems to be going to Jomsom already, I managed to bargain the price down to 250 rupees and jump in.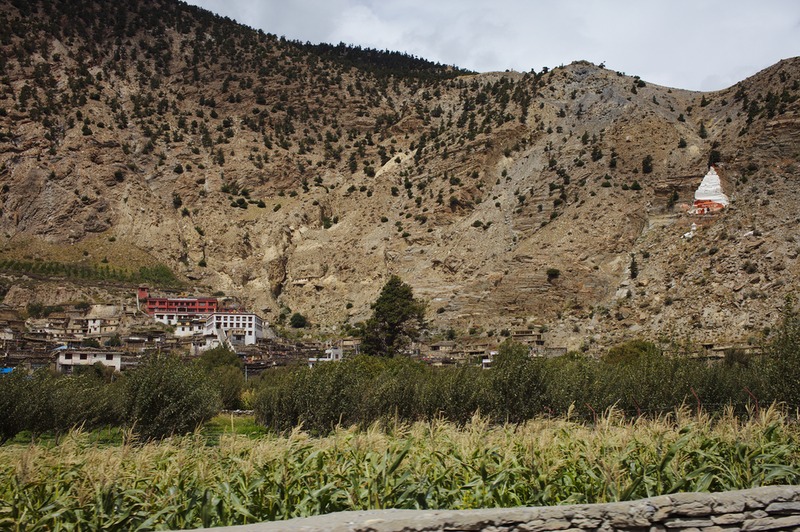 Jomsom is a place I would only want to visit in order to go somewhere else. The village has one street lined with hotels, shops for tourists and a few empty restaurants. It's flanked by a dusty bus station on one side and a conservation area permit checkpoint and an army base on the other.
The surrounding nature however is magnificent. Nilgiri (7061 meters) lies only 10km away and is hidden most of the afternoon by clouds that slowly come creeping in to the valley. On the other side lies a range of mountains with several peaks above 6000 meters. Finally to the west of Jomsom Dhaulagiri is still keeping me company towering over everything else with it's 8120 meters.
I spot a mountain equiptment rental store and enquire about a trip to the Tilicho Lake I noticed on the map at the hotel where I had apple pie for lunch. To my surprise the owner says "this can be arranged" and calls a guide who shows up shortly after. He says he can take me there and wants $60 per day. I manage to reduce the price to $45 per day but suddenly there's a charge for equiptment that runs up to $15 per day bringing us back to $60. I'm out of my league here and I figure that this is kind of ok if I can avoid paying for the Permit that I never got when I passed by Pohkara. Granted, Tilicho is also within the Annapurna Conservation Area but I feel better about overpaying a local guide than giving money to the Nepalese army manning the checkpoints. I mean, at least that's how I convince myself.
Thome, my guide asks me if I want to head out the same day. That seems a bit rushed to me so I suggest we meet outside my hotel the next day and after arguing a little about how early we were getting up (he wanted to sleep in) I go to find some food for 3 days in the mountains. This task turns out to be easier said than done. There are no trail bars to be found and in desparation I end up deciding on a diet of uncooked instant noodles for lunch and digestive biscuits with peanut butter for dinner.
Photos on ifany.org: Walking to Jomsom