Thome (my guide) meets me early in the morning and he picks up a few vegetables before we pass the permit checkpoint without getting stopped and cross the river to walk in to the valley alongside the Nilgiri and Tilicho peaks (both above 7000m). For the most part I'm carrying my own luggage, but he is porting the tent, stuff for cooking as well as a couple of water bottles of mine.
I had tried to convince Thome that we start walking at 5.30am when the day starts but he wouldn't budge and insisted we start at 6.00am instead. Looking back this detail seems symptomatic of my relationship with Thome.
We stop in a small village for breakfast before we head up a dusty trail along the valley. At this elevation it's very arid but as we walk higher up more trees start to appear. For lunch Thome surprises me and starts to prepare for a fire to cook food. He had told me the day before that we would only eat dry food and that I would bring all of my own food. I ask him about his change of heart and tells me that dry food is no good. "Cooking is better, you know?". He cooks up the food in an abandoned hut using firewood we collect around us. I offer to help start the fire but he just pours some gasoline over the wood and ignites it. The hut is soon folled with smoke and we both evacuate outside with a plate of instant noodles each, but the scorching sun forces us to retreat to separate huts where we sit in the doorway and eat in silence.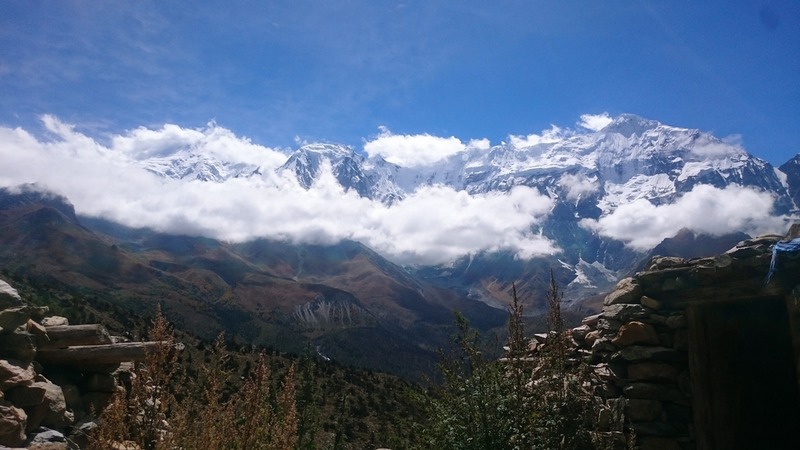 Thome's cooking consists of heating some oil, curry and vegetables and mix it with instant noodles or dhido, a simple mush made from millet or buckwheat flour. It's not great but it sure beats digestives with peanut butter.
We head up a steeper path after lunch and Thome asks me to walk ahead at my own pace. "I'm an old man with children. It's better you know". I say sure but realise an hour later that I'm out of water and walk back to get something to drink. After walking far further back than I expected I find him sitting on a rock in a field. He complaints a bit about headache and hands me both of my water bottles. I walk back to my backpack and continue until I get to the place Thome had described as our campsite for the night. A dilapitated hut is standing next to a small spring looking out towards Nilgiri at roughly 4000m. The autumn has arrived at this altitude and hills ahead of me are covered with trees in various colors varying from green over yellow to bright red.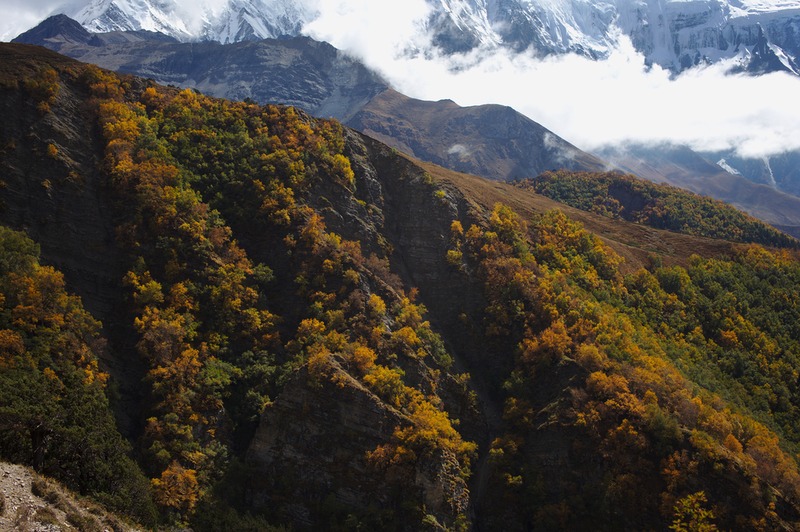 Thome arrives and I go to wash the dust off my feet in a creek. When I come back he is sitting next to a three year old boy who is crying. His mother is walking up to the spring and the boy is whimpering as she walks away. Thome is sitting a couple of meters away from him and tells him something in Nepali in a calming voice to no effect. I sit down between them and the boy looks at me for a second and cries harder.
We argue for a while about where to put the tent. Thome suggests we sleep in the hut but I don't find the idea of spending the night on top of a garbage heap particularly appealing and insist we put up the tent somewhere next to the hut. It's a shitty tent. Not woth the $15 I'm paying per day to rent it. It's relatively big but very worn dirty and partly broken. Thome asks me to help him put it up because he doesn't know how to. I put it up and tell him it's a shit tent. We're both tired after a long day's walk.
Clouds are coming in to the valley slowly obscuring the beautiful view of the peaks in the evening light. I walk with my camera past the Yak camp I passed on the way up. On a sign-post someone has put a jacket and a backpack and in the clouds drifting up it looks like the silhuette of a lonely hiker stonding on the hillside looking out over the valley.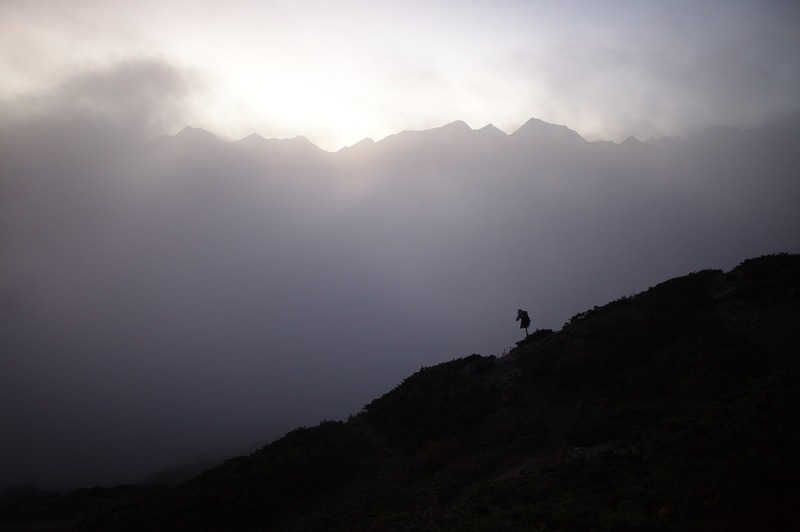 Befor dinner the yak-herders had been driving the yaks back from their pastures high above us. The whole flock had come down the narrow winding path kicking up dust along the way. We could see them approaching from far away as a small dust cloud slowly approaching us. I was a bit worried they would trample over the tent. They didn't though. The yak herds adeptly drove them around us, yelling commands as they walked behind them with they dogs running around keep the animals together.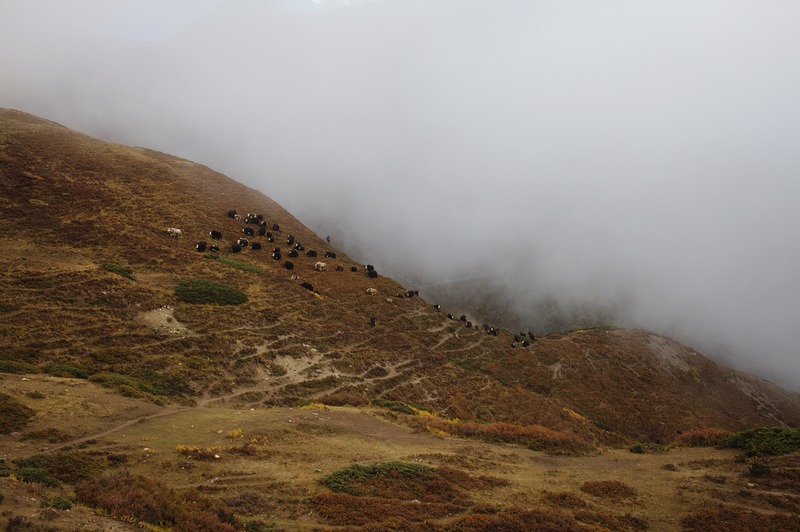 That night I expected to sleep like a rock but the 3mm sleeping mat Thome had provided combined with a slight headache from the altitude meant that I spent the night becoming familiar with every single rock under the tent instead. Lying there twisting my body to fit comfortably in between the rocks underneath me I could occasional hear the deep rumble of Avalanches coming down from Nilgiri across the valley from us.