I decided to stop twisting around sleepless in the tent aorund 5.30am. Thome (my guide) was still sleeping so I went outside to take a few pictures. Thome woke up 20 minutes later and I started to pack down the tent while he made Dhido for breakfast. It's a simple meal made from millet or buckwheat flour mixed with hot water turning it in to a gooey paste. A lot of nepali eat it and it's very filling but the flavor comes short of amazing.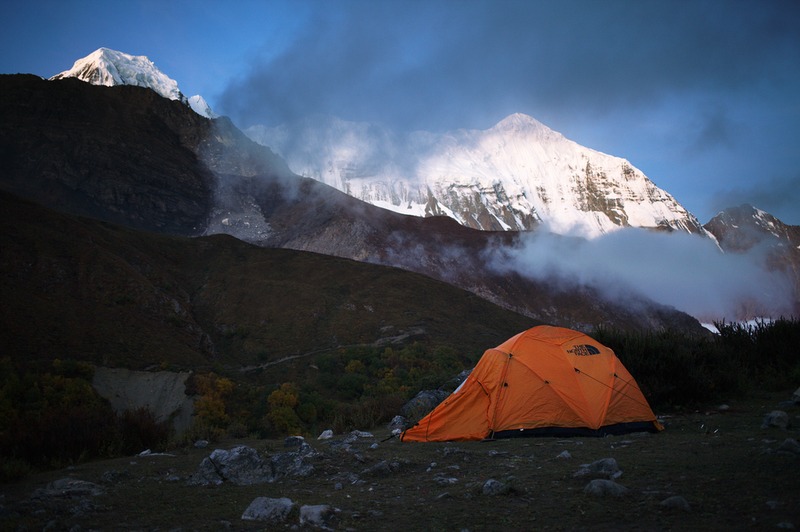 We walked along the edge of the mountain before moving up along a ridge following the mountain back above our camp the night before. Finally we would put up camp at either the low-high campsite or the high-high campsite. Thome couldn't quite decide which one to use. He would spend some time going over the low-high campsite telling me that "it's better, you know" and I would say "sure", but 5 minutes later he would argue the same about the high-high campsite. It was not a long walk to either camp but we were both tired from walking the day beofre as well as the altitude.
At one point Thome sits down to have a break and complains of headache and fatigue. He then looks at me and tells me that there is a fine if a porter or guide dies. For a porter the fine is $1000 while the death of a guide would cost me $15000. The implication is clear and I tell him that if he doesn't feel well and want to return he can just say so. This isn't the first time I tell him this and assure him that we can turn around at any point. He rests a bit, tells me that he is fine and starts walking.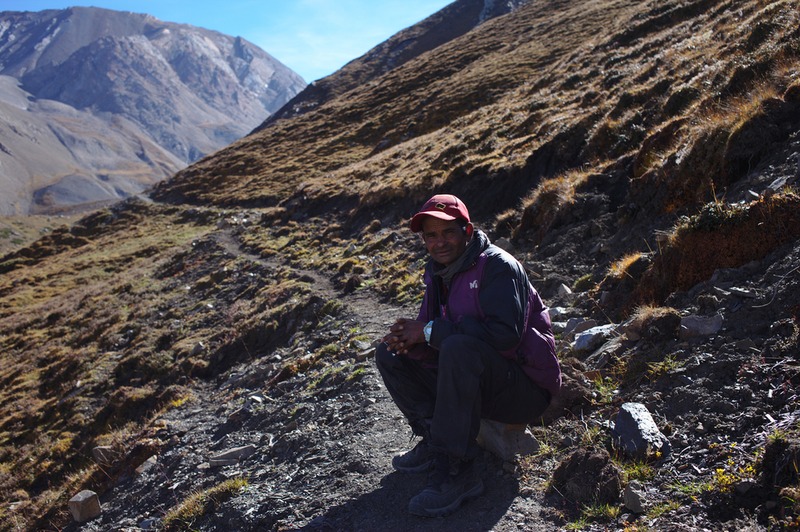 We reach the low-high campsite and Thome decides that the high-high campsite is better (you know). By now the trees have been replaced with sporadic moss and grass but on all steeper sides there are only loose rocks. The high-high campsite is marked by a couple of low stone walls. We put up the tent behond one and Thome puts the cookin gear by the other. By now the altitude weighs heavily on me. We are in about 4600 meters and I can barely move without feeling short of breath and slightly nauseaus. I lied down to take a nap but was still feeling awfully week afterwards. A creek was flowing 15 minutes walk away and I needed to get water but I wasn't sure I would be able to walk up the loose rocks to get back to the camp. The moment I got up and started walking without my backpack I could feel that not all strength had left me and while I still felt short of breath, moving about didn't seem all that hopeless.
Thome was still sleeping when I got back. I walked around without too much to do. It was only noon and the thought of spending the rest of the day at this altitude bored and headachy felt like a horrible prospect to me. I hadn't brought any books to read and Thome was no conversationalist so all I could do was lying down in the grass and stare at the pass to Tilicho lake roughly 700 altitude meters above me. It felt vexingly close and I was dreadfully bored and uncomfortable so when Thome woke up I jestingly suggested I walk up there in the afternoon. He was surprisingly enthusiastic about the idea. Especially if he would stay put and cook dinner at the campsite. The prospect of not dragging him along and having to listen to him complaining about the altitude sounded pleasant so this was a compromise I could support.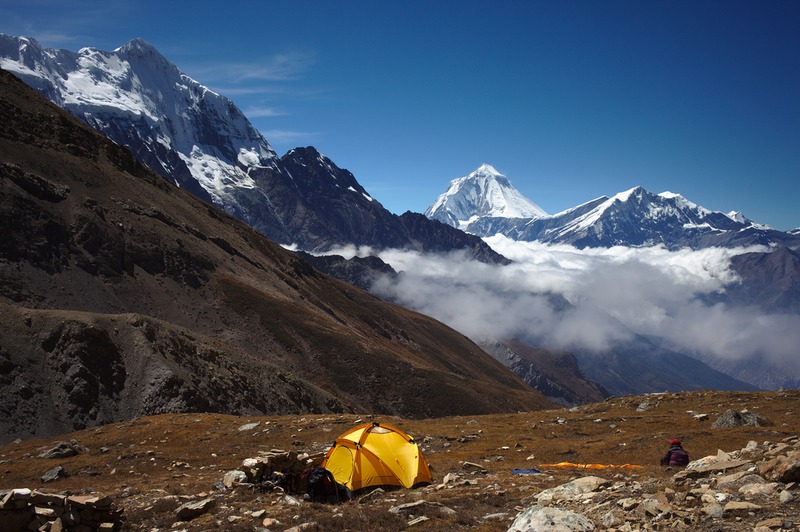 Walking alone is dangerous so I wanted to be clear with him what he would do if anything happened to me. My attempts at setting up a response-plan were pretty futile though. I wanted himt o understand that if I weren't back before 7.30pm then something was seriously wrong and he would have to go out with a light and look for me. He didn't quite understand the hypothetical nature of my request and kept insisting that I would be home earlier since it didn't long to walk to the top. This lead to a long forth and back where I would try to make him understand that this wasn't something I thought would likely happen. At one point I asked him: "what do you do if it's 7:30pm and I'm still not back?". "I go to sleep" he replied and offered to walk up with me if I was scared. I ended up having to act out a scenario where I would walk and twist my angle before we came to some sort of agreement. I'm still not sure if he were being fascetious or just incompetent.
I set out for the pass around 2pm not quite sure if I would be able to make the top too. The weather was gorgeous so at least I'd want to have a look out over the pass at around 5300m. The terrain consisted of various sizes of loose rocks making it very hard to minimize how much energy I was spending. I would take each step as slow as possible to avoid getting out of breath but every so often I would trip on a loose rock and the effort required to regain my balanca would force me to take a break for a minute or two to get back to my senses. I was getting more and more nauseaus for each step I took but the prospect of vomitting seemed far beyond my capacity in terms of muscle power so I wasn't exactly sure what would ultimately happen.
It didn't take me long to lose th epath in a recent ravine and the difficulty of walking upwards inteisified. I eventually made it back on the path higher up but by then walking had become so difficult that I needed to set mental checkpoints in order to keep going. I would spot a bigger rock maybe 20 meters ahead of me and decide on a couple of checkpoints along the way to that goal. 7 to 10 meters was all I was really capable of walking without a break so using this system I could slowly cover the route checkpoint by checkpoint giving me a sense of achievement even if I had just moved 30 steps uphill.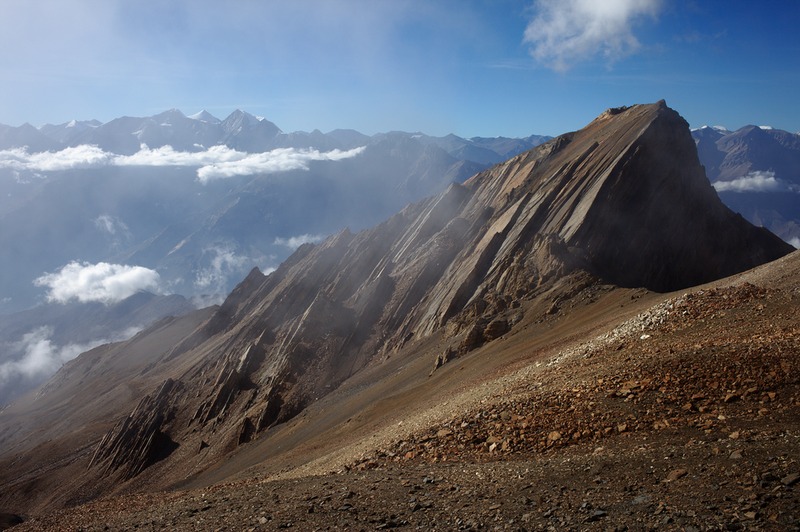 I was slow and tedious but every time I looked back I could see how I was gradually conquering the mountain step by step. I was barely capable of thinking a clear thought but I had a feeling I was going to make it eventually.
And then the clouds came in. It sohulnd't have been a surprise. Every afternoon clouds had been drifting in from the valley and over the pass. Yet this afternoon it had been exceptionally clear and I have naively hoped it wouldn't happen. But here they were, coming over the pass and completely obscuring the view I had laboured so hard to achieve. Still I kept climbing for another 30 minutes in the vain hope that the clouds would disappear again. It were some dreadful 30 minutes. My nausia was intensifying and every footstep was a mental battle to continue. Hardly 15 minutes before the pass I had to give up realising that even if I made it to the pass there would be nothing for me there. I took a very disappointed selfie and walked down knowing very well that I would not be making another attempt next morning. In fact at that moment I was ready to forswear all future trekking at least beyond 4000 altitude meters.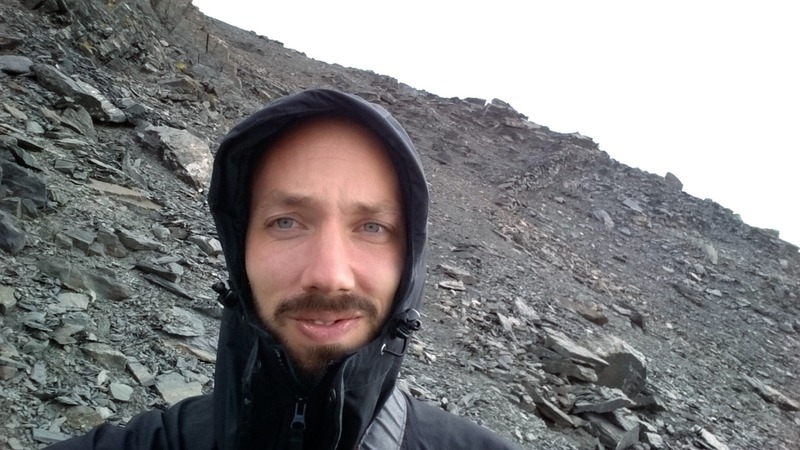 I made it to roughly 5200m and there are plenty of stupid decisions that I now recognise looking back at my adventure that made it much harder for my to have achieved my goal. I should first and foremost have given myself more time to acclimatise. I've learned this the hard way.
I came back to camp looking like a ghost. I had no appetite, no energy and no words left. Thome dutifully cooked me a meal even if he wasn't feeling great himself but I could only get a few bites down before nausia overtook me and I had to give up.
I was shaking with fever when I crept in to my sleepingbag in all my clothes and my hands would not warm up even after a couple of hours. Like the night before I spent this night getting acquinted with every rock beneath my much too thin mattress. I barely slept entertaining myself with trying not to puke inside the tent. I needed water but it was outside and it took me a couple of hours to muster the will to stagger out the tent to fetch it. In a lucid moment I decided to mix in a bag of rehydration powder and drank most of it. I'm still to this day proud of coming up with and executing this plan. Given my state of being at that point I felt like I was pushing agains the boundaries of what my body could achieve even just sitting up straight. The powder mixed with water kept the worst hunger at bay and calmed my stomach somewhat and I settled in to a rythm of twisting and turning my fever away.