In the lucid breaks between my fever delusions that night, the prospect of walking down the 25km and 2000 altitude meters to Jomsom the next day felt daunting. I still didn't feel like I could get a single bite down at the time for breakfast and with no dinner the night before my energy depots were nearly depleted.
Thome and a couple of bags of powdered tomato soup saved me that morning. At 5:30 he turns around to me in the tent and proclaims that he hasn't slept much the last night. I didn't try to compete for the misery price, even if I felt it was deservedly mine. We both got up and to my amazement Thome found the energy to light a fire and cook us a bit of soup. It wasn't good soup and I still felt like puking for every spoonful but it was bland enough that I managed to eat half of my bowl. Thome asked me if I didn't like the flavor when he saw me giving up on the last half. I didn't really have words to descripe to him how much I liked the fact that I had managed to eat even half of it.
We packed down the tent and started to retrace our path down the mountain. Two days earlier when we had passed the yak herders, Thome had asked them if they might be able to cook us some dhal bhat on our way back. There was no way I could eat much be we stopped by their camp still and they offered us a cup of mountain tea topped with yak butter. It was not delicous but from the pearls of fat swimming on the surface it was obviously nutritious and I forced it down.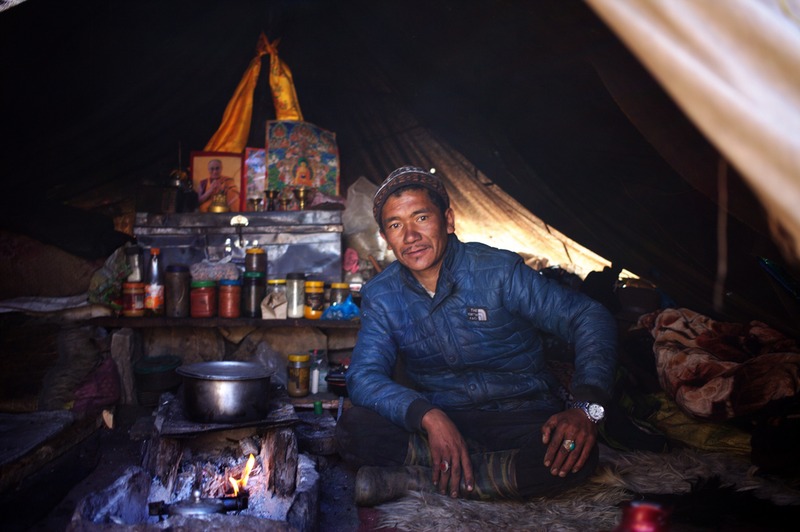 In the yak camp there were what looked like two families but only small child. They were living over the summer in two semi permament tents, complete with carpets beds and a shrine with a photo of the Dalai Lama. The yaks where already grazing on higher pastures and the adults busied themselves with moving yak dung to patch the fence. Looking around I realised that the side walls in the tents were also plastered with dung. My guide bought half a kilo of yak butter from the yak people and we set off for Jomsom.
About two hours from Jomsom Thome turns to me and asks if I have a permit. "Nope" I answer him and I can't quite tell if he is amused or appalled. He talks for a bit about how there are checkpoints and that they make me pay if they catch me. I point out that there aren't any checkpoints where we are. Thome agrees. "I'll take you to Jomsom on a sideroad then" he adds after thinking a bit. I tell him that this sounds good and we continue.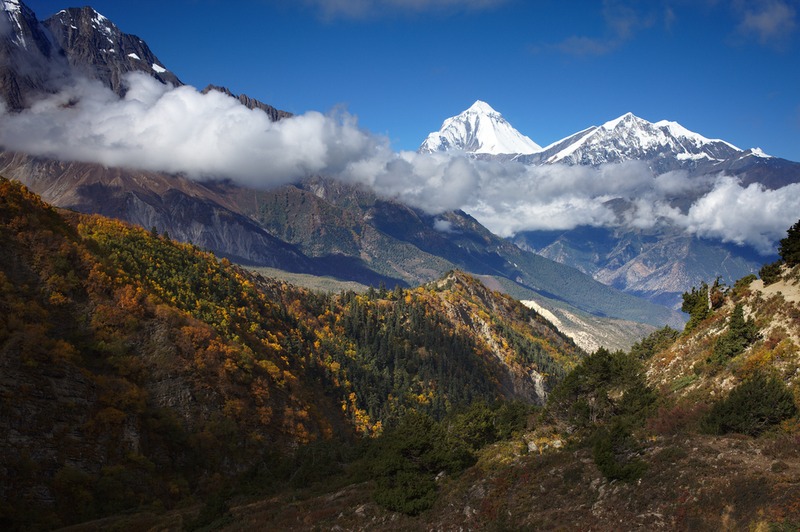 We stop 45 minutes before Jomsom in the same small village where we had breakfast on the first day to rest for a bit. Thome gives me the option between going to a nice place or a not so nice place for food. The choice sounds a bit fishy so I ask him who will be paying. He says that I will. He has no more money after buying yak butter he tells me. I laugh and point out that this is an important bit of information concerning my options. Thome doesn't understand why I think it's funny. We generally don't find the same things funny. In particular when it comes to his behaviour.
I go for the less fancy option and have a cup of tea. Being only a short walk from Jomsom I figure I might as well just have something to eat after I get a shower. Thome isn't particularly interested in eating here either. He tells me that his wife has already started cooking at home. He adds that I can't come to eat at his house because they are going to have a wedding and have a lot of guests over. He goes on to elaborate on how it's impossible for me to come over because of all these guests. I wasn't expecting to come eat at his house but now that I have been so thoroughly and unsolicitedly rejected I was a bit miffed at the thought of eating alone.
Thome delivered on his promise to smuggle me past the checkpoint and I booked in to the same room at the same hotel I had stayed at earlier. The two cigarrette buns were still lying in the bathroom window. The hotel lady told me that no plane had left the airport the last two days. She wasn't sure if my place would leave the next day but my odds were grim.
A bit later Thome stopped by to collect his pay. I counted it out and gave it to him. He counted it twice himself and left without any fanfare. I think we were both happy to be free of each other's company. I went to buy a few things and went back to the guesthouse to play a game of solitaire and have dinner. Like my previous stay I was the only guest at the hotel. I ordered steak with fries.