I spent a large part of the night worrying that there would be no plane to Pokhara the next morning, or woese, that there would be a plane but that passengers from the last two days would hustle and bustle so aggresively that I wouldn't get a seat. Even in retrospect both scenarios seemed pretty likely.
My flight was at 6:40am. I had wanted to get an early flight before the clouds came in to the valley to say a last adieu to the mountains. The night before I asked the hotel lady to prepare me a porridge for 5:40am but she had laughed and told me that with a flight at 6:40 I coudl just eat breakfast at 6:00 and walk over to the airport.
Normally I would have been inclined to believe her but I wanted to be sure to get on the flight if a crowd showed up all demanding seats so I insisted. After eating my breakfast I went over to the airport. It must have been around 5:54am and a security guard promptly turned me away and told me to come back later. I loitered around the gate for a while before an English and a Nepali lady walked in and I pursued them in to the terminal building and sat right opposite the check-in counter in the spartan departure hall. The counter remained closed until 6:20am when a man from the airline arrived followed by a larger tour group. They all parked their luggage in front of the luggage counter so I followed suit, intent on not losing any of the strategic advantage my early arrival had afforded me. The check-in counter opneded and a couple of guides go tthere before me but I squeezed in and got checked in before the big group and went to the luggage counter. The lady asked me to open my bag and took out my rainjacket in a coursery attempt at looking like she was checking the contents. I love security theater.
After getting through security I sat down at the airport's only gate. I still didn't see a plane and I contemplated the posibility of leading passengers through some elaborate make-belief boarding process before being told apologetically by some local bigwig that there unfortunately was no plane that day.
That scenario got a tad bit more absurd when we were all led out to the tarmac and told to stand in a a straight line on the concrete. Nilgiri was towering in front of us and the frisky morning wind made me shiver a bit.
We waited there for 15 minutes before I spotted the plane coming around the bend in the valley and first at this point was I finally convinced that I would fly to Pokhara that morning.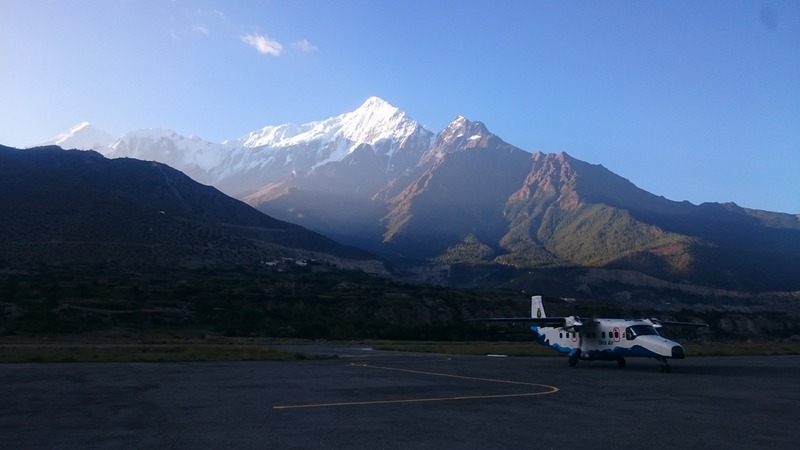 The flight was fun. The landing strip in Jomsom is short enough that it ends in a small juimp at which point you pray the plane has gained sufficient velocity to lift off or the trip will come to a quick conclusion in the river below.
The plane follows the valley around and over to Pokhara crusing at an altitude of around 5000 meters which means that I would look out of the plane window and up on the peaks of the Annapurna massive next to us.
We landed uneventfully 20 minutes after leaving Jomsom, roughly 18 hours less than it would have taken to arrive by land. I had breakfast together with Rieko, a Japanese business man living in Nepal and two Nepali students teaching disaster response to primary school children in Baglung.
Pokhara is not interesting, but it's a convenient place to relax and we both felt like relaxing. Outside of a short walk along the green murky lake we didn't do much but eating and checkout out the aboundance of souvenir shops. For dinner we treated ourselves to nice fresh fish from a really nice restaurant on the lake. It felt well deserved.